eNOVAWCM

About eNOVAWCM Work Clearance Management (Permit to Work)                 
At Present Safety Work Permit are being handled through hardcopy (pre-printed format) in most of the Industries due to the complexity of approval & authentication.

The 'Permit To Work' (PTW) system provides a level of control to ensure risks associated with certain work types and areas are eliminated or minimized to prevent incidents occurring in the workplace.
ENOVAWCM is a customized solution to provide a user friendly platform to request, control & execute the job under scope of Work Permit Request as laid & established by Safety.

This is a workaround of Work Clearance Management [WCM] of SAP-PM.
This entire PTW system is designed to suite the Organizational level of control by all sorts of industries.
Event is being intimated in Outlook & execution will be done through work item activation of SAP inbox of SAP Business Work Place (SBWP) as work item as per the desired control.

Product Features:-

| | |
| --- | --- |
| | eNOVAWCM execution is mounted on Notification thus Providing flexibility to create order as & when required |
| | Entire Process flow is executed & controlled on single document, single transaction code, created by  requestor only |
| | Level of Control for Approval can be set & maintained as per Business Org  Structure |
| | Easy to handle , single click operation ,no query to select the desired |
| | Intimation & action is very simple, normal knowhow of SAP PM is desirable |
| | Options are available to adopt MS Office docs as attachment thus implementation is easy no change management is required |
| | Easy Tracking of Permit due to category selection |
| | Multiple Option for Work Permit |
| | |
| | Option Provided to Reject, Revise & Approve at each level of approval |
| | Permit Extension  is also available as per safety Norms 8 hrs for a day & 7 days |
Permit Handled:-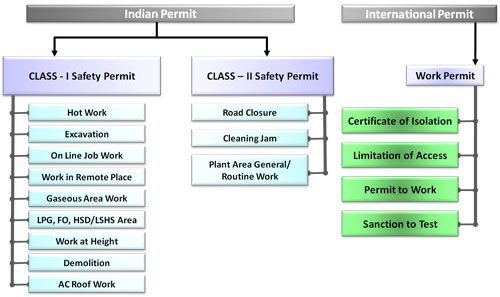 Process Flow:-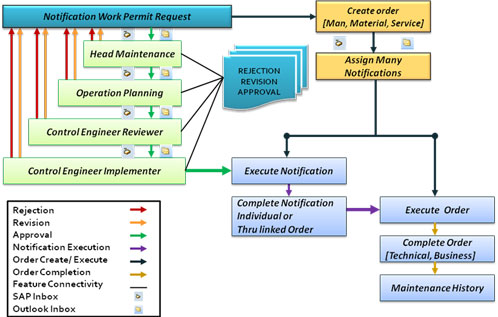 Comparison-eNOVAWCM/SAP-WCM:-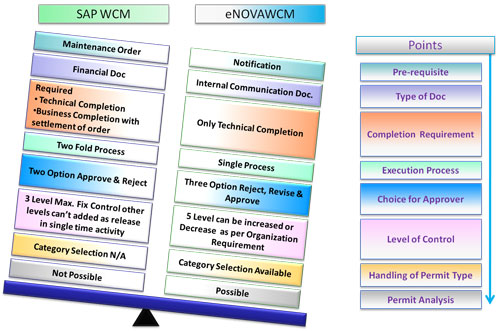 Benefits of e-Permit:-

| | |
| --- | --- |
| | Fastest possible communication with use of SAP Business Work Place, external e-mail & SMS |
| | 100% Secured authentication due to use of user id & personal e-mails & mobile for SMS |
| | Un-Limited Retention Period for permit |
| | Complete Tracking & tracing of permit with a single click |
| | Permit category wise analysis with event logging along with user name |
| | Compliance is best assured, due to Pre-defined & fetched Switching action |
| | Multiple output option for Document – hardcopy, pdf etc. allows to save paper as well as ease of communication |
| | Minimal Possibility of execution error due manual lack of attention |
| | E-permit facilitate user to handle large numbers of permit especially during Plant shutdown. Multiple options of Permit Normal & emergency provide feasible access & better execution |